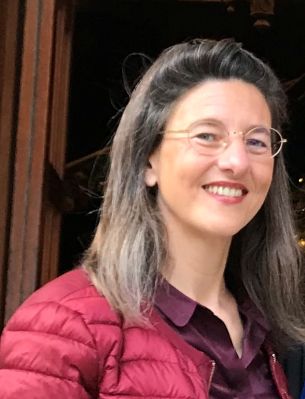 Greta Goetz is a senior lecturer in the English Department at the College of Philology, University of Belgrade, where she has taught since 2001. Prior to that, she worked for TIME magazine in New York, The Hong Kong Standard, in Hong Kong, and in administrative positions at Columbia University, New York.
Her formative education was completed in Hong Kong, Switzerland, and the United States of America. She received her undergraduate education in France and the USA, at l'Université Catholique de l'Ouest, l'Université Paris-Sorbonne (Paris IV), matriculating to Columbia University, from which she graduated cum laude with a BA in Anthropology and Writing. She completed her postgraduate education at the Faculty of Philology, University of Belgrade, and as of 2015 holds a PhD in Serbian Literature, with a concentration on American and British works of the late 20th and early 21st century. She defended her dissertation in Serbian, which is not her mother tongue but the language of her maternal ancestors. Her dissertation was entitled: "An Intercultural Reading of the Autobiography of Michael Pupin: Science, Narration, and Nation."
Her classes on Academic English and American Culture attempt to promote, together with knowledge of the subject matter, dialogic discourse, project-based learning, and historical as well as ontological epistemological awareness. This parallels her areas of intellectual research, which draws on hermeneutics as a framework for examining classical and modern uses and understandings of literary and dialogic devices, and on constructivist epistemology and its cultural implications. Above all she is concerned with how ways of seeing can inform distinctive modes of being in the drama of the lived.
She has participated in international conferences and published academic papers, the latter including "Nikolaj Velimirovic and Julia Kristeva: Voicing the Divide" and "Profound Community: The Apposition of Anne Carson's 'The Life of Towns' and Plato's Protagoras". Her current work focuses on epistemic fluency and problem-based networked learning. 
She speaks fluent English and French, has good working knowledge of Serbian, and previously had working knowledge of Italian and Cantonese (spoken in southern China).